If you are looking for one of the Best Options Trading Platform then, Sensibull is for you. The platform is developed by Abid Hassan, along with his friend Abhimanyu. Sensibull recently started an Options Trading Platform, which makes the options trading easier and faster for all types of trades. Sensibull can suggest a list of strategies on the market view to the traders.
Moreover, it is also equipped with all the functionalities such as trade, risk and profit, strike prices, loss potential and so on. Users can also compare several options strategies to discover the appropriate one for them. Sensibull is available to various devices as well. Here, we will be explaining the features of Sensibull, how it works and finally how to start the options trading by using the platform. So without any further delay, let's dive into it.
Sensibull has tied-up with popular stock brokers like Zerodha, 5paisa, Motilal Oswal, Alice Blue, ICICI Direct etc. for trading directly through this Options Trading Platform.
Sensibull: What Is It And How It Works?
As mentioned above, Sensibull is a leading platform for options trading. So now what is options trading and how it works? An Option is a type of contract which provide the rights to the buyer, to trade an underlying asset at a specified strike price before or on a specified date, which is dependent on the option itself. Sensibull lets you do the exact thing by using their trading platform.
For example, if any user thinks that the Nifty will go up in the next couple of days. Then one can find a suitable option for the trading approaches to analyse your potential profit.
For performing this one need to enter:
1. Stock name,
2. Suitable market view,
3. Target price and
4. Target date.
Once the user will hit "Go" and the application will present option trading approaches, from which users can choose the right one for themselves.
It also has features like Expand, where one can get a detailed insight on various other factors such as risks, reward potential and so on. User can also filter various strategies by selecting actions available on the platform.
Apart from all that, it also allows the users to compare strategies, which are being suggested by the platform to assess the P&L at different scenarios. One can change spot, dates etc. to choose the right trading strategy. Once the strategy selection is complete, users can directly place an order from Sensibull platform.
Sensibull: Pricing Options
Sensible offer various pricing options to the traders. The basic version is available free of costs, which is suitable for the small traders or for those who are just starting out. To get the premium features one need to purchase their premium plans such as Sensibull Lite and Sensibull Pro.
The prices for Sensibull Lite and Sensibull Pro are 800 INR (currently being offered at 480 INR) and 1300 INR (currently being offered at 780 INR) respectively. First time users can also avail various discounts while purchasing any premium plan.
Sensibull: Key Features of this Options Trading Platform
Sensibull has a lot of useful features. Some of them are as follows:
1. Event Calendar:
The event calendar is useful for getting notifications on some of the most important events that can affect the trade. It notifies the user about the risk due to that particular event over the site. The event calendar can track macro events, including FnO results.
2. Option Analyzer:
Sensibull has an option analyzer for deeply analysing each and every Options contract with various functions such as Option Greeks, Option Chain, and Scenario analysis and so on.
3. Predictive Securities Transaction Tax:
This feature is useful for getting information on Securities Transaction Taxes on options contracts.
4. Enhanced Option Chain:
The enhanced option chain offers an OI buildup design with excellent visualization. This feature is equipped with real-time Greeks, built-in events notifications and so on.
5. Futures Conversion: This feature is very useful for changing an option for a target day based feature on the assigned spot price.
6. Option Central:
This feature is useful for identifying various options trading opportunities by keeping in mind several parameters such as Events, IV percentiles, PCR, OI Buildups, Volume Breakouts and so on.
How to Start Options Trading With Sensibull? A Step by Step Guide
By using the Sensibull platform traders can explore best strategies for options trading by analysing the market view. But that's not all about Sensibull. By using the platform users can also place an order and perform trade by buying or selling options through the platform.
To perform these functions one needs to follow the below-mentioned steps:
Stage 1:
At first, users need to log into their account to go to the dashboard. From there, users can select the index they wish to trade. Currently, Sensibull provides strategies for options trading on NIFTY and BANKNIFTY.
• Select anyone from the available options.
• Choose the view.
• Put the target amount.
• Choose the target date.
• Click on the Go button to search for the option trading strategies.
Stage 2:
After clicking on the Go button, users can see various information regarding important events, interest rate, policy announcements and so on. The event function is very important as it gives the insight of various events, which can affect the trade. Users can also see a long list of option trading strategies, on which one can use various filter options to find out the right one for them. Users can also compare the strategies by using several premium tools to analyze pick the right one.
Stage 3:
Once the suitable options trading strategy is finalized users can then directly place an order either from the individual strategy page or from the strategy comparison page.
• Select the Order size.
• Select the Lot size.
• Click on the Place Button.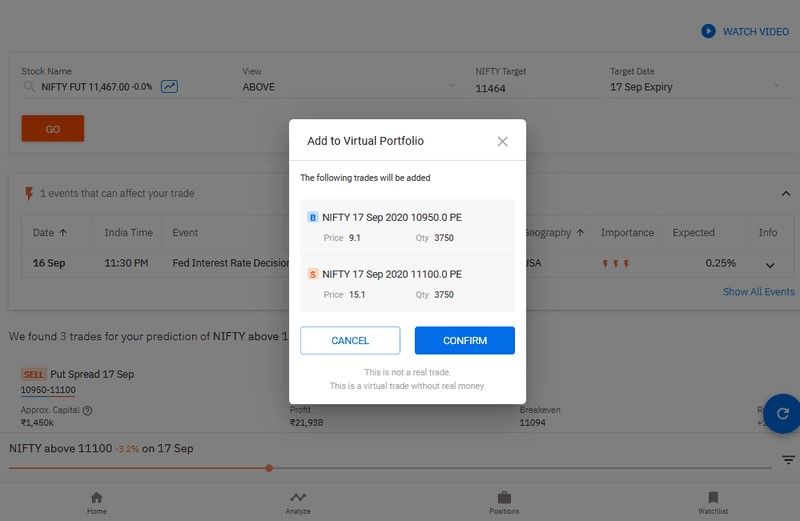 Users can also modify their orders before placing an order by hovering over the particular order. A 3 dot box will appear, click on it to modify any order before placing it.
Sensibull Review
That's it! This was all about Sensibull, it features, how it works and finally how one can use the platform and start trading by analysing option trading strategies. The platform offers an integrated option to analyze and directly place an order from the platform itself.
The premium features such as event make the analyzing work easy and straightforward. The pricing options are also very affordable, which makes the application is suitable for all types of traders. Don't you think so? Have you tried this Options Trading Platform? Do share your feedback.